This post was requested by Sophie Alex from Books Like Wolves.  She specifically asked for pros & cons of each comment system and why I chose the one I currently have. Since I've already discussed this topic, but all the way back in March of 2016, I've decided to repost it with some new information (since some things have changed for me since then).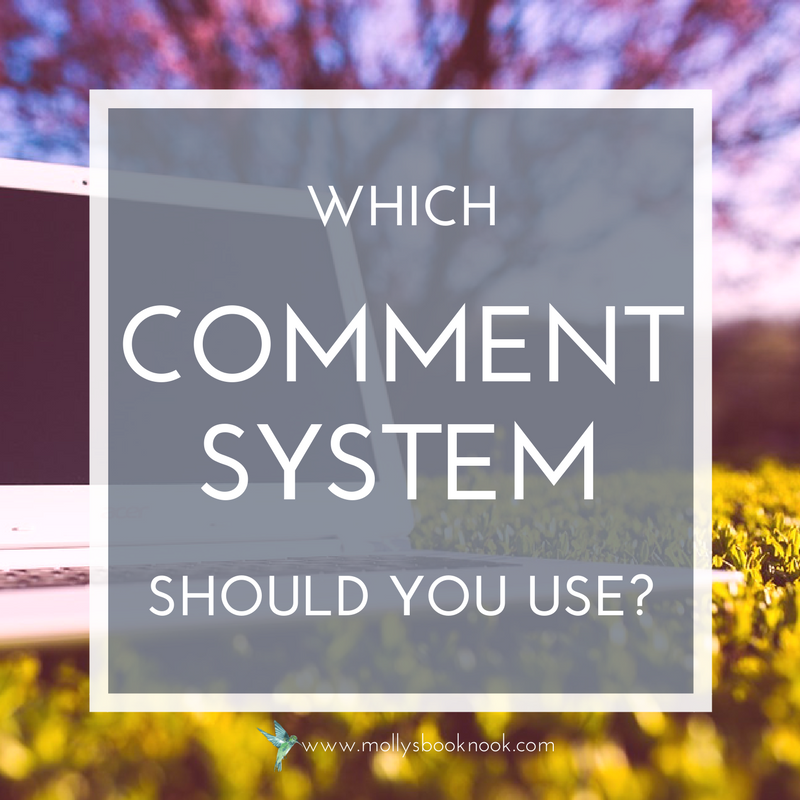 I'm sure you have all read about how important it is to reply to comments on your blog and to comment on other people's blogs. I've talked about it. Several bloggers I follow have talked about it. Your internet best friend has talked about it. Your teacher has talked about it. Your mother has talked about it.
Ok, not really, but you catch my drift. It's a very popular topic.
What haven't I seen talked about a lot? Commenting systems.
So, that is what this post is about. A quick Pros and Cons comparison of the 3 major comment systems out there!
DEFAULT COMMENT SYSTEM
WordPress and Blogger come with their own pre-installed commenting system. This is popular for people who don't want the hassle of installing a new plugin/system. Commenters enjoy this one because of how easy it is to comment – simply enter in the comment, email and you're good to go! Or if you're already signed in to your blog, it's even easier.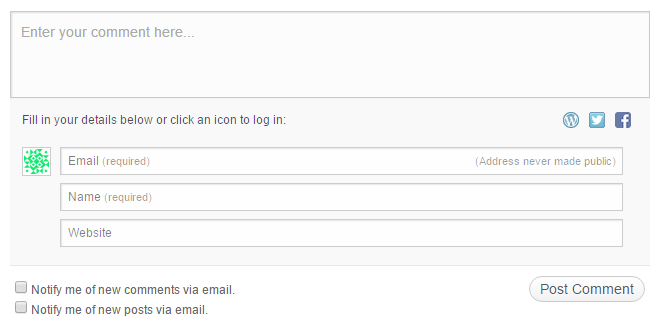 PROS:
♥ Very little set-up since it is pre-installed
♥ You can choose how people can comment from requiring an email and name to having them sign into a social media account.
♥ You can choose to show back links
♥ Easy for commenter since it does not require registering for an account
CONS:
♥ Spam comment filtering is limited. For WordPress you can install Akismet, otherwise, you need to configure the settings of the comment system. This is when the ability to choose who can/how to comment comes in handy. Also, you can choose to moderate every comment that comes in.
♥ That moderation can get a bit tiresome if you receive a lot of comments
♥ Does not build good discussion because the notification system is flawed (I personally don't like it)
COMMENTLUV
CommentLuv is a popular 3rd party system that can be used on WordPress and Blogger. I've noticed this one to be the most popular in our book blogging community. The reason for this is because of the back links option. It's great for marketing your latest post, and as the owner of the site, you can easily visit the blogs of your commenters.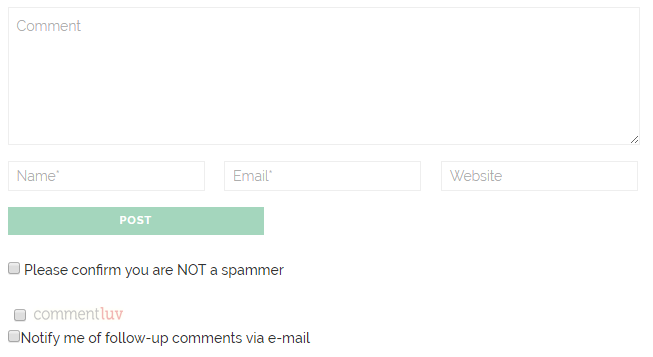 PROS:
♥ Allows for back links to the commenters most recent blog posts
♥ Encourages visitation to other blogs/community building
CONS:
♥ Attracts spammers
♥ Some people only self-promote
♥ Sometimes I find it annoying to have to type in my email and URL every time I comment (it seems like it picks and chooses when to save my information, even on blogs I comment on regularly)
♥ Lately CommentLuv isn't recognizing my URL. I don't know if this is an isolated issue or not, but it is a con for me.
DISQUS
Another 3rd party commenting system that can be used on WordPress, Wix and Blogger (here's how to add it to WordPress/Blogger, or click here for Wix). I find this one to be the easiest in regards to engagement. Commenters will receive email notifications for replies to their comment. The blog owner can easily keep track of all conversations in the easy-to-navigate admin dashboard and reply straight from their email.

PROS:
♥ Multiple login options
♥ Commenter receives email notification with replies to their comment ONLY
♥ Easy to use dashboard
♥ Great spam filtering
♥ Can share via social media
♥ You can reply to comments from your email
♥ There is now a Disqus phone app
CONS:
♥ No back links
♥ Some people dislike having to register for an account to comment (there is an option to allow guests to comment, they will not receive email notifications. OR, they can comment as a guest, then subscribe to the conversation with their email and still receive notifications)
♥ There is now a Disqus phone app (I experience a lot of crashes and the method of following your own blog's comments is odd)
SOCIAL MEDIA SYSTEMS
Facebook and Google+ also have their own commenting systems. I think the pros and cons of these are pretty obvious. They are simple to use, can share via social media but if the commenter does not have either a Facebook or Google+ account, then they are at a loss. Also, people may not want to link their comments on your blog to their real life. So, there is a security issue for some people.
OTHER NOTABLE MENTIONS
Two worth mentioning are LiveFyre and InstenseDebate. I have not seen either of these used by many people, especially LiveFyre. IntenseDebate is one I continually have issues with having never been able to comment on a blog with that system.
LiveFyre focuses a lot on real-time engagement and community building. They have a feature (for WordPress only) called Sidenotes in wich the commenters can leave notes within the posts' content. They also allow tagging of other commenters, a back link option and you can see who is currently on the post or following the conversation (live listeners).
SO, WHAT DO I USE?
I've gone through several comment systems. Here are my experiences thus far:
COMMENTLUV – This one is great for easily reading other people's blogs. While that is a great feature, I got a lot of spam using CommentLuv. It got annoying, personally. So, I switched to:
DISQUS– I loved Disqus. I was able to comment back quickly and see the entire conversation (sometimes conversations would span days and I wouldn't always remember what was said, being able to see it all was nice). I also got no spam at all using Disqus. The only con, other people don't like it. So, now, I use:
DEFAULT WORDPRESS SYSTEM – Which is okay. It's nice that the dashboard is within my WordPress dashboard but I don't like the email system and I receive spam comments quite often – with some if your comments going to the spam folder. I keep it because I know people prefer not having to sign into a comment system.
What's the verdict? They each provide different advantages, so it's really up to you what is most important for your blog. If you like the convenience to be on your end, Disqus is probably the best. If you want it to be easier for your readers, maybe try the default system. If you want to be able to read other blogs and for bloggers to easily link to theirs, try CommentLuv.

I hope this helped some of you. If I didn't answer your questions, please ask below!
What system do you currently use and why?