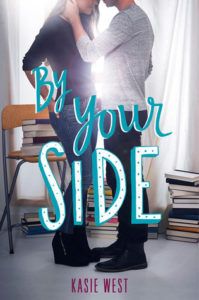 By Your Side

by Kasie West
on January 31st 2017
Genres: Contemporary (YA), Romance (YA), Mental Health
Pages: 346
Amazon | | Barnes & Noble | | Book Depository

When Autumn Collins finds herself accidentally locked in the library for an entire weekend, she doesn't think things could get any worse. But that's before she realizes that Dax Miller is locked in with her. Autumn doesn't know much about Dax except that he's trouble. Between the rumors about the fight he was in (and that brief stint in juvie that followed it) and his reputation as a loner, he's not exactly the ideal person to be stuck with. Still, she just keeps reminding herself that it is only a matter of time before Jeff, her almost-boyfriend, realizes he left her in the library and comes to rescue her.

Only he doesn't come. No one does.

Instead it becomes clear that Autumn is going to have to spend the next couple of days living off vending-machine food and making conversation with a boy who clearly wants nothing to do with her. Except there is more to Dax than meets the eye. As he and Autumn first grudgingly, and then not so grudgingly, open up to each other, Autumn is struck by their surprising connection. But can their feelings for each other survive once the weekend is over and Autumn's old life, and old love interest, threaten to pull her from Dax's side?
This is not the best-written review because of gushing, okay.
By Your Side is an easy read with just the right amount of cutesy fluff that I needed during my slump.
At first, I was a bit worried about this book because the synopsis makes it sound like a love story over the course of 2 days while the characters are stuck in a library. If that super insta-love bothers you and you had the same concerns, rest assured it doesn't all take place in the library or over 2 days. Although, it's still kind of insta-lovely, just not as bad as I thought.
Personally, Autumn was a bit infuriating. She wasn't terrible, and her actions definitely make sense for a teen, but it was hard to read how much she cared what other people thought of her. Sometimes it felt like she cared just too much, but that may have had something to do with her anxiety, it was just never addressed as so. 
That is literally my only complaint. I loved everything else so let's just get to the gushing. 
What was in this book? Present parents! Siblings! A supportive best friend! Anxiety representation! Understanding love interests! A genuine group of friends! How amazing is all of that? I loved how many positive aspects were represented in this book, which is rare in YA contemporary.
The romance was cute and fluffy. There's sort of a love triangle but it has some special circumstances – so I don't really like calling it that. Either way, both of the love interests are good people that mean well. It's actually kind of hard to really choose a side. You'll like it.
Overall, I enjoyed this. Autumn isn't terrible, despite what I said it's just a minor issue I had. The romance was great and all of the positive relationships and representation was amazing. Even though the story is incredibly predictable, it's an easy and happy read. So, go read it!
A note on the anxiety representation: I wouldn't classify myself with intense anxiety, but I can relate to a lot of what Autumn feels. I have a mild form during certain situations, especially social and, what I would classify as Cleithrophobia, so I related. However, it's not the most in-depth representation and I don't know how accurate it would be for everyone. On the plus side, which I know is something a lot of you appreciate, it had a small amount of a positive outlook on medication.
Rating Report
Plot
Characters
Writing
Representation
Romance
Overall:
4 / 5