I received this book for free from the author in exchange for an honest review. This does not affect my opinion of the book or the content of my review.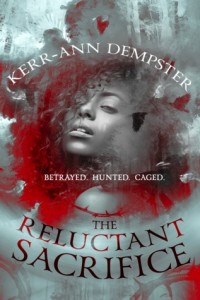 The Reluctant Sacrifice

by Kerr-Ann Dempster
on August 7th 2015
Genres: Fantasy (YA)
Pages: 263
Source: the author
Amazon

Centuries ago, sibling rivalry tore Aramith apart. As punishment, the losers were stripped of their immortal birthright and banished to Earth. There, they wasted away from old age and diseases. However, there is hope…
If a Shaw child, born on the 12th day of the 12th month offers her soul in a public sacrifice, then the exiles will be forgiven and welcomed home to Aramith.
Aubrey Shaw is that child, but dying for the exiles is not on her to-do list. Using her gift as a Jumper, Aubrey leaps between bodies to escape relentless shape-shifting hunters. Only, shedding her skin is not enough. Not when Joshua, her best-friend-turned-hunter, is hell-bent on dragging her to the altar.
Will Aubrey's love for Joshua change his mind?
Or, will she have to trust the scarred stranger who shows up out of the blue cloaked in lies and secrets? Doing so means giving up on Joshua. But betting on Joshua's love could do more than break her heart.
It could kill her.

I didn't know too much about this book when I dived into it, so I was completely surprised by how wonderful the story was.
Dempster created a unique story that really kept you intrigued and connected to the characters. It's not a typical teenage-girl-saves-the-world plot, it's about selfishness and wanting to save yourself – but do you still do the right thing and do it willingly? Don't get me wrong, I love Tris and Katniss and every other female protagonist in (insert popular novel here) but sometimes it becomes humdrum. So this story was definitely a refreshing twist on that archetype. There are still some of the tropes to make it fit into the YA category – the love triangle, the best friends – but it's done tastefully and notably different.
My only grievance with the story-telling was that sometimes there wasn't enough information given. I am not expecting info dumps (those can become verbose) but just a little bit more explanation would have sufficed. I found myself getting a little lost in the background of the Aramithian battles/world/people etc. I would have loved to hear more about all the different powers that Aramithians have!

The characters' personalities were all displayed vividly, but their backgrounds left you wanting more. Especially Coy; every time Aubrey asks a question about his past he just says "That's a story for another time", this becomes infuriating because you want to know his background. Same goes for the other characters, you get very little insight into why they behave, or feel, the way they do. However, you got enough information for the characters to be engaging and to connect to them in some way. Dempster did create a very unique band of characters, all complex and questionable. So there isn't a lack of great characters, I just wished for more background.

Dempster's writing is beautiful. There's witty dialogue and emotional depth that just flows effortlessly. Honestly, it's some of the best writing I've read, especially considering this is a self-published novel. Because Dempster's writing was so stunning, the novel was such an enjoyable and fast read.

Overall, this is a fantastic read. It plays on some of the popular themes but in a unique way, questioning the characters moral standards, brings to light the fact that people are selfish, look out for themselves and don't always want to save the world. Also, I'm pretty sure Dempter is a Supernatural fan because there are so many references to the Winchesters and the story kind of reminds me of season 8. So that's a bonus!
---
Rating Report
Plot
Characters
Writing
Representation
World Building
Overall:
4 / 5