I received this book for free from Edelweiss in exchange for an honest review. This does not affect my opinion of the book or the content of my review.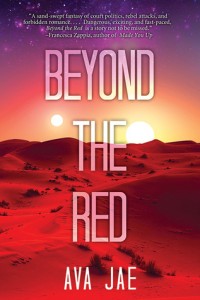 Beyond the Red

by Ava Jae
Published by Sky Pony Press on March 1st 2016
Genres: Fantasy (YA), Sci-Fi (YA)
Pages: 360
Source: Edelweiss
Amazon | | Barnes & Noble

Alien queen Kora has a problem as vast as the endless crimson deserts. She's the first female ruler of her territory in generations, but her people are rioting and call for her violent younger twin brother to take the throne. Despite assassination attempts, a mounting uprising of nomadic human rebels, and pressure to find a mate to help her rule, she's determined to protect her people from her brother's would-be tyrannical rule.
Eros is a rebel soldier hated by aliens and human alike for being a half-blood. Yet that doesn't stop him from defending his people, at least until Kora's soldiers raze his camp and take him captive. He's given an ultimatum: be an enslaved bodyguard to Kora, or be executed for his true identity—a secret kept even from him.
When Kora and Eros are framed for the attempted assassination of her betrothed, they flee. Their only chance of survival is to turn themselves in to the high court, where revealing Eros's secret could mean a swift public execution. But when they uncover a violent plot to end the human insurgency, they must find a way to work together to prevent genocide.
Additional FTC Disclaimer: The eARC I received of Beyond the Red was an unfinished copy of the book — because of this, I am not going to go too in-depth into the "Writing" category of my review (since it may be different in the final edited version). I thought that it was fair for you guys to know this 🙂
I recently started updating my reading progress on Goodreads with comments.
I thought it'd be fun to share with you guys.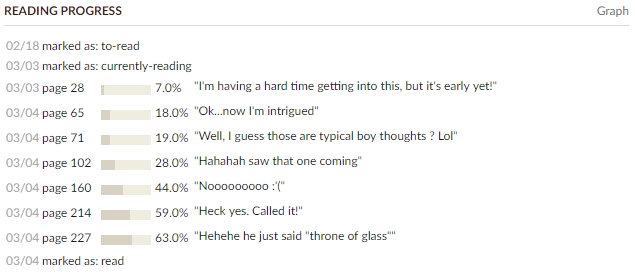 I liked and disliked the story. I thought it was an interesting story, especially the plot line with Eros (the male character). However, I felt there were a lot of unanswered questions and a lack of world building. I also found some – no, most of it to be predictable, but it still kept me entertained.
There were some side-plots that I found unnecessary, as well (like the one with Kora's brothers' sex life).
Oh, and, to be honest, the "climax" was also lacking. This is a spoiler so — View Spoiler »when the leader of the alien race's brother is almost killed, he decides that he can't trust ANY humans. So, he sends out nanites that are programmed to kill the human race — this doesn't make sense to me because the alien race uses humans as slaves. So, if they kill all the humans, they'd be out of slaves. Maybe I'm over-analyzing this one, but still. It seems illogical. « Hide Spoiler

Ok. Where do I even begin? Let's start with Kora.
Kora. One of the two main characters we meet. She's the "queen" of her alien province. I really wanted to like her because she was a female in a position of power, but she fell flat. Yeah, she knew how to defend herself in a physical fight, but had no idea how to defend herself verbally. I found her character to be very weak and her weakness caused for some very questionable choices. For example, and this is a slight spoiler so I'm covering it up, View Spoiler »her last personal guard attempted to assassinate her. Which, alright, makes sense, BUT, it turns out she was having a romantic relationship with him and that's why it was so easy for him to try to kill her. THEN when she gets a new personal guard, she lets him sleep in her bed because it makes her feel safe and she starts having feelings for him, because duh? « Hide Spoiler And that is not the only example I have. So, yes, questionable decisions.
On the other hand, there is Eros. The male main character. I enjoyed his character a lot. He is half-blood who struggles to find his place in the world. Humans and Sepharon hate him because of his mixed-species. Because of the struggles he faces, there was much more depth and emotion with him. I felt bad for him and just wanted him to succeed and be happy.
Basically, my feelings of the main characters were the polar opposite. However, the two did provide multiple perspectives of what it was like to live on the planet.

The story is told from two perspectives: Kora and Eros. Like I touched on above, this gave a good perspective on what life was like on the planet. A Royalty versus Peasant sort of vibe.
As for the writing itself, it is…interesting. The author created some unique curse words such as "voiding" (like, that is un-voiding-believable) and some other slang words like "mo" for "moment" and "kinduv" for "kind of". I found the latter (slang words) to be somewhat distracting. Especially when it would be "mos" for "moments". Then I saw the full word "moments" in ONE sentence and was thrown off again. So, yes, the writing was interesting.
The pacing was slow in the beginning, even though there was a lot of action, there was also a lot of set-up. It picked up about halfway through, yet there were still moments of lull. Overall, though, once it picked up, it was fairly fast-paced.
Oh, and, a lot of sexual talk. I mean, sheesh, both characters were obsessed.

I don't love nor hate this book – it was just mediocre. The ending definitely left me wanting more and if this is a standalone, that will have an impact on my rating because I don't feel like a lot was answered. Would I recommend it? Yes, well, hesitantly. People who are sci-fi fans might enjoy this novel. I would also only recommend to more mature audiences (there is quite a bit of sexual content in this book).
Rating Report
Plot
Characters
Writing
Representation
Overall:
3 / 5