I received this book for free from Netgalley in exchange for an honest review. This does not affect my opinion of the book or the content of my review.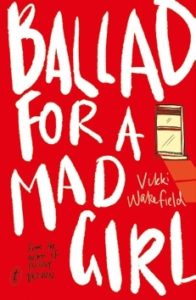 Ballad for a Mad Girl

by Vikki Wakefield
Published by Text Publishing on May 29th 2017
Genres: Mystery (YA), Paranormal (YA)
Pages: 309
Source: Netgalley
Amazon | | Barnes & Noble

Everyone knows seventeen-year-old Grace Foley is a bit mad. She's a prankster and a risk-taker, and she's not afraid of anything—except losing. As part of the long-running feud between two local schools in Swanston, Grace accepts a challenge to walk the pipe.

That night she experiences something she can't explain. The funny girl isn't laughing anymore. She's haunted by voices and visions—but nobody believes a girl who cries wolf.

As she's drawn deeper into a twenty-year-old mystery surrounding missing girl Hannah Holt, the thin veil between this world and the next begins to slip. She can no longer tell what's real or imagined—all she knows is the ghosts of Swanston, including that of her own mother, are restless. It seems one of them has granted her an extraordinary gift at a terrible price.

Everything about her is changing—her body, her thoughts, even her actions seem to belong to a stranger. Grace is losing herself, and her friends don't understand. Is she moving closer to the truth? Or is she heading for madness?
This book falls solidly in the middle of 'really enjoyed it' and 'it was alright'. The story follows Grace, a 17-year-old who is one of the towns biggest pranksters. When something happens to her out in the gully, she begins to have paranormal experiences.
Grace just wasn't a character I connected with. It felt like I was dropped into the middle of a identity crisis for her and all her friends. They all were a very tight-knit group until suddenly they weren't. Yet, I was somehow supposed to feel connected to her and understand how they've all drifted apart. That part of the story needed more depth. If it did, it would have been a story with a great friendship element.
As for the story, I was intrigued by this concept, but as someone who watches maybe a few too many horror films, the first 3/4 of this book was rather predictable. With that said, it kept me going – just like all the horror films I watch because I just have to know. Reading this at night with the lights off actually gave me a bit of rush because some of what Grace was experiencing was sprinkled with horror. 
The last quarter of the book felt a tad rushed. It felt like they built this huge thing up with her paranormal experiences, and then just…ended. I did enjoy the twist at the end, though.
Overall, it was an easy and entertaining read. Even though I didn't connect with the characters, it's always fun to read a bit of paranormal mystery with a good twist that makes you want to go back through to connect the dots yourself – which is what happened with this one.
*side note: I should probably stop writing my reviews 2 weeks after I've read the book  🙂 
Rating Report
Plot
Characters
Writing
Overall:
3 / 5