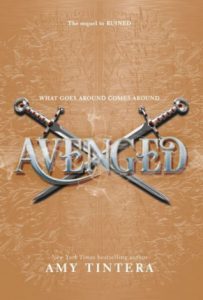 Avenged (Ruined, #2)

by Amy Tintera
Published by HarperTeen on May 2nd 2017
Genres: Fantasy (YA)
Pages: 416
Amazon | | Barnes & Noble

A war that will fuel her. A bond that will destroy her.
Emelina Flores has come home to Ruina. After rescuing her sister, Olivia, from imprisonment in rival kingdom Lera, Em and Olivia together vow to rebuild Ruina to its former glory.
But just because Em and Olivia are out of Lera doesn't mean they are safe. Their actions over the past year have had consequences, and they are now targets of retaliation. Olivia will destroy everyone who acts against Ruina. Em isn't as sure.
Ever since Em posed as Prince Casimir's betrothed in Lera, she's started to see another side to this war. Lera may have destroyed the Ruined for decades, but Em knows that Cas is different. And now that he's taken the throne, Em believes a truce is within reach. But Olivia suspects that Em's romantic feelings for Cas are just coloring her judgement.
Em is determined to bring peace to her home. But when winning the war could mean betraying her family, she faces an impossible choice between loyalty and love. Em must stay one step ahead of her enemies—and her blood—before she's the next victim in this battle for sovereignty.
*This is the sequel to Ruined by Amy Tintera (review here). 
Initial Thoughts: I loved book one, Ruined, so I went into this one with high expectations and left with mixed feelings. I'm just going to do a list of what I liked and what I didn't like to make this easier and shorter!

It had a great refresher of what happened in book one. So, if you're going into this with very little memory of the events of book one (like I did), don't worry.
I enjoyed all the point-of-views. They each had distinct voices and it was easy to tell them apart.
The world-building was wonderful. You can clearly imagine the landscape and trails of movement by the characters. I especially appreciated that Tintera included some advancements within her world. I don't see that often in YA fantasy. What I mean is that there was a certain region that was using steam for power and had more technological advances against the other region's swords and arrows. It was an excellent mix and I hope to see more of that in book three. (

Side note: I really wish there was a map, though! Who doesn't love maps?

)
The book overall was kind of like The Young Elites but told mainly from a different perspective. I loved The Young Elites, so this was absolutely not a bad thing.
I wish there were more of certain characters. I wanted more of Olivia's chapters, I wanted more interactions between Aren and Cas, I wanted a little less romance and more action (

the first book was such a good balance and this one had a bit more of the sulking and angst – Em was so focused on Cas through the entire novel

)
There were an awful lot of conveniences. People kept running into each other at the perfect moment. This is mentioned in the story when the characters talk about fate and always finding each other – but it was a little overdone. They just found each other when one was in desperate need.
It was a little slow. It took a while for something to happen, probably a little less than halfway. Then the ending was underwhelming. I wanted more action, more Olivia, more violence. Instead, it ended in such an anti-climactic way that I didn't even realize it was the end until I turned to a blank page.

I did enjoy this one. I preferred the first book, but I found this was still entertaining. I think this missed, for lack of a better word, some oomph. It just cycled through the motions of a sequel, almost acting as a filler between book one and book three, and lacked some of the emotion between certain characters (especially the sister dynamic – they avoided each other for most of the novel). I will read book three, but I hope it brings in more of certain characters, more action, less angst, and more emotion between the right characters (in my opinion).
Also, I don't really understand the tag line. Or the title. There wasn't much revenge going on in this one.
*Rating lies somewhere between a 2.5 – 3. 
Rating Report
Plot
Characters
Writing
World Building
Romance
Overall:
3 / 5