You've entered into a world of nerdom.
let's navigate it together!
The world is full of forms of entertainment. There's books, movies, television, video games, apps and more! Hundreds of ways to entertain us, get us hooked, and make us become hermits while we binge watch all 10 seasons of Supernatural. On top of that, we like to interact with each other, fangirl, ship, blog and just freak out over all our favorites.
And that's where my nook comes in.
Here, in my little nook, I bring you reviews to find your next favorite book, movie, game or show; comprehensive and interactive calendars to keep track of premieres and releases, 'best of' lists to help you discover new titles, blogging tips and tricks to kick butt at blogging, and plenty of discussions so we can chat away.
But who am I? 
Hi there! I'm Molly. I'm a 20-something housewife, living in Southern California who loves to spend her days reading, watching movies, binging shows and playing games, and run an online bookish merch stop called Blu Bear Bazaar!  – that is, when I'm not caring for my pets (I have 2 dogs and 3 bunnies!) or spending time with my wonderful and supportive husband. I started this blog because I had a passion for so many things and I wanted to bring them all together into one place and to have an outlet to chat about it all!
*Oh look, there we are!
Some of my favorites!
TV. Outlander, Game of Thrones, Stranger Things, It's Always Sunny, The 100, The Newsroom, Gilmore Girls, The Office. Movies. Braveheart, Lord of the Rings, All Things Disney, Lots of Marvel Movies, Lots of Indie Films and the Occasional Documentary Kick I Get Into. Books. Six of Crows, Wolf by Wolf, Lord of the Rings, Dragons of Autumn Twilight, The Grisha Trilogy, The Young Elites, The Lunar Chronicles, Lots of YA Contemporary, and a few Guilty Pleasures. Games. Assassin's Creed, Tomb Raider, Skyrim, The Witcher, Deadrising, State of Decay, and Any Survival/End-Of-The-World Theme.
Helpful Links:
---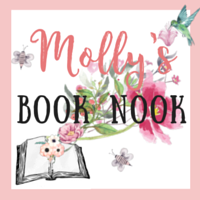 ---