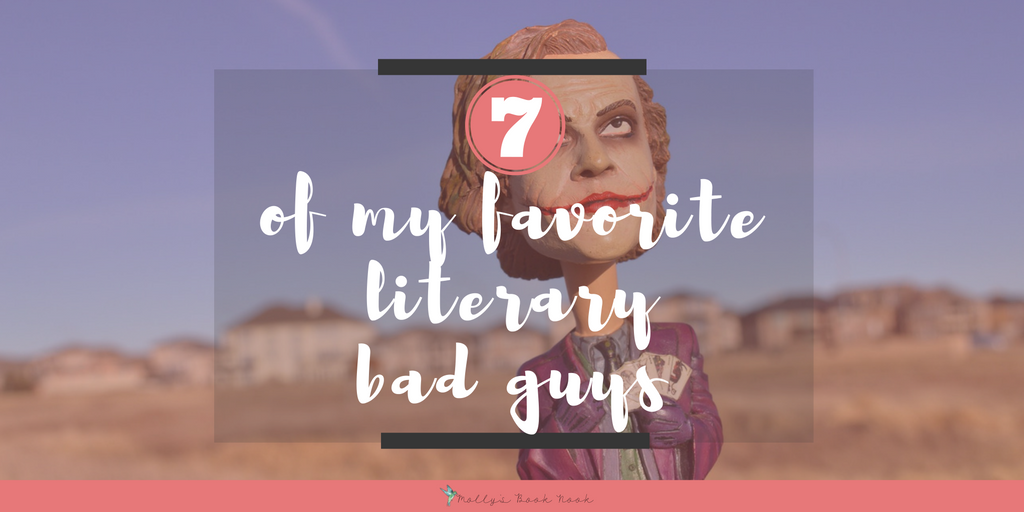 Sometimes you gotta give some love to the bad guys. I mean, let's face it, sometimes the villains or bad guys are the best part of a story. Not only would the story not be, well, exciting if it didn't have a villain, sometimes they add great depth and character to the story. Some are done just so well that they're almost more memorable than the heroes, or you feel like you might just start rooting for them because they're so bad. Or am I the only one who does that? 
This is spoiler free! So don't fret. Also, these are in no particular order.
The Darkling
From The Grisha Trilogy by Leigh Bardugo
Who doesn't like the Darkling? Who doesn't like anything written by Leigh Bardugo? Because if there is someone out there, we need to have a conversation 😆
But to the point, the Darkling is a character where you think you know who he is and what he is about but he's written so well you're shocked. Then, you continue to root for him even though he does some shady shit. That's how good Bardugo is. Some people even swoon for a person they definitely shouldn't be swooning for.
Adelina Amouteru
From The Young Elites by Marie Lu
Technically, she's an "anti-hero" but whatever, she's badass. When I first read this book I was absolutely blown away, then I read book two and was blown away all over again. I haven't read book three because I'm scared for it to end in a way that I don't want it to end. Adelina is a character that you feel great grief for. You understand her motives and her decisions, even if you don't agree with them. Frankly, she gets the shit end of the stick often and you can't help but want to just root for her.
But she better kick some major ass in the finale.
Amarantha
From A Court of Thorns and Roses by Sarah J. Maas
Amarantha was just brutal. While I didn't root for her or think she had a depth to her that justified her actions, I just thought she was so downright dirty and evil that I had to appreciate that. She put a man's eye in a ring so he'd always see what she did. She tortured a girl. She had a sex slave. She was a dark and deranged woman.
Queen Levana
From The Lunar Chronicles by Marissa Meyer
Note: I have not finished the series, nor have I read Fairest. 
I enjoyed Levana's character. I don't feel like we got to see enough of her, but maybe that comes later in the series (I've read 1-3). What we do get to see, I find to be pretty cruel and deceptive. She literally "glamours" herself so people don't know what she actually looks like, if that's not deceit, I don't know what is. Also, I liked that she was a "take what she wants"/infiltration type of bad guy. She just got right up in everyone's business, demanded things, and got them. #Respect
Aidan
From Illuminae by Jay Kristoff and Amie Kaufman
AIDAN is an AI that is a mix of the bad guy and the good guy. He does everything because of his programming and belief he is saving people. What I loved were his chapters throughout the book. I only cared about his chapters. I wanted his story to end well and I actually had emotional reactions to things that happened to "him".
Dr. Richter
From Ultraxenopia by M.A. Phipps
In a sense, he's such a simple character – a doctor with certain, questionable, scientific dreams. That is fairly simple compared to the other villains on this list. Dr. Richter was unique, though, in that he was creepy. He said some creepy things and he had motives that weren't always quite clear. He was just a man yet it just felt like there was something evil in him.
Cersei Lannister
From A Song of Ice and Fire by George R.R. Martin
Ok, I saved the best for last. After a while, I really grew to appreciate Cersei's level of crazy, level of intelligence, level of cunning, level of just being a tough ass woman. She has faults, many faults, but this is a list of my favorite bad guys anyways. In terms of the books, I've only read up until book 3. As for the show, I'm all caught up, and I CAN NOT wait until the new season because of where her character left off. Just, are you kidding me? She's about to fuck some shit up and all anyone is talking about is Dany and her dragons.
---

Who are some of your favorite villains or not-so-good characters?
Do you ever root for them to win?