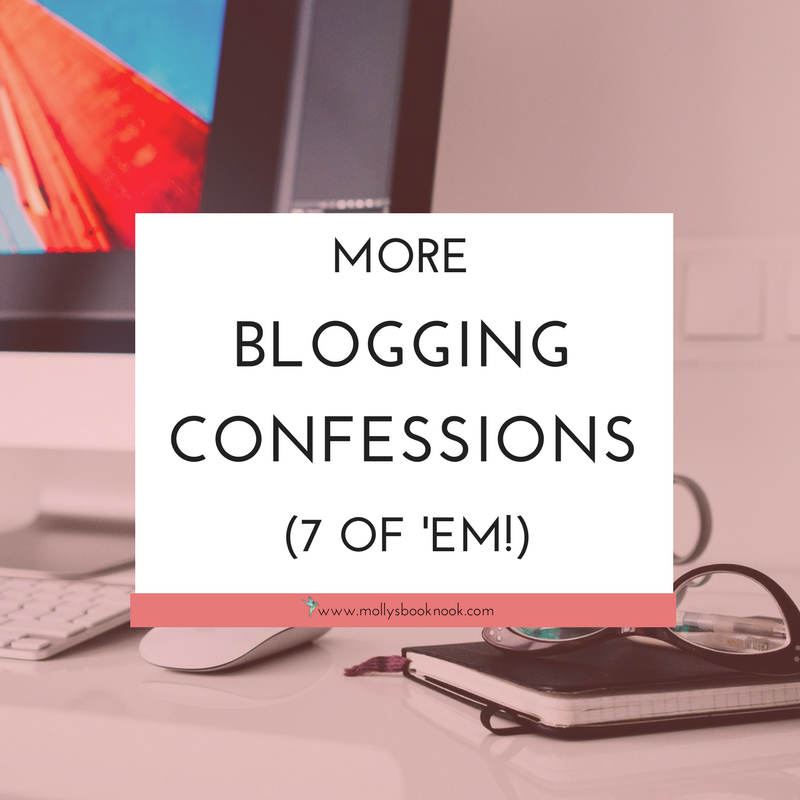 A while ago I wrote 4 Blogging Confessions I Should Be Ashamed Of…well, I thought of 7 more confessions that pertain to blogging because why not. Let's just get on with it, shall we?

INTRODUCTIONS TO POSTS ARE THE BANE OF MY EXISTENCE.
Just in case you couldn't tell by the above intro, I hate writing intros. 9 times out of 10 they're completely unnecessary. Most of the time the title of the post itself is good enough and no intro is even required for the reader to understand what the post is about. It makes sense I hate writing post intros because essay intros were the bane of my existence in school, too.

WRITING BOOK REVIEWS IS HARD.
So hard. Especially when I try to review the writing or pacing of a novel – I just have no words besides "it was fast-paced" or "it was slow-paced" or "the writing was alright". What am I supposed to say? Even without those categories, it's hard to write a review because I know people will read it and make decisions. My opinion will influence someone and that is stressful.

I'VE ABANDONED WAY TOO MANY ARCS & REVIEW COPIES.
I know, I'm a terrible person. I completely gave up on Netgalley. I have probably 14 books on there that I just haven't touched in two years. I've also received a few from authors that I haven't gotten to yet. Those make me feel terrible. It's not that I don't want to read them, it's that I get distracted by all the pretty new ones I buy. This is why I stopped accepting review requests.

ON THAT NOTE, WHAT THE HECK IS THE DIFFERENCE?
What is the difference between an ARC, a galley, and a galley proof? Seriously…what is it? I don't know. This makes me feel like such a failure as a book blogger (I mean, come on, I should know this, right?)

I READ NEGATIVE REVIEWS FIRST.
If I'm on the fence about a book, I go to Goodreads and typically read the negative reviews first. It makes me feel like I'll have a better view of the book before reading it. Usually, positive reviews are always the same while negative reviews tend to be diverse. Certain things bother certain people and knowing what those things are before going into a book helps me not be too hyped or put too high of expectations on the book.

I JUST STARTED USING MY LIBRARY AGAIN.
Wait, before you congratulate me for using this, know that I'm so lazy that I'm using the app to get ebooks and audiobooks from my library. I still haven't gone in to check out any physical books…that's just too much work, obviously.

I DON'T LIKE HAVING PHYSICAL COPIES OF CONTEMPORARY NOVELS.
Most of the time I purchase these as ebooks. If I do have any physical copies it's either because it came in a subscription box or it was one of my anticipated reads (like anything by Jennifer Niven or Rainbow Rowell). Otherwise, I get them as ebooks. For some reason, I just don't like them taking up shelf space. I put more value on fantasy novels than I do contemporary. That's not to say I don't love contemporary, some are my favorite! I just want more dragons, magic, fae, and talking animals on my shelves.
---

Do you relate to any of these? Do you have some blogger confessions that aren't on here? Let me know!