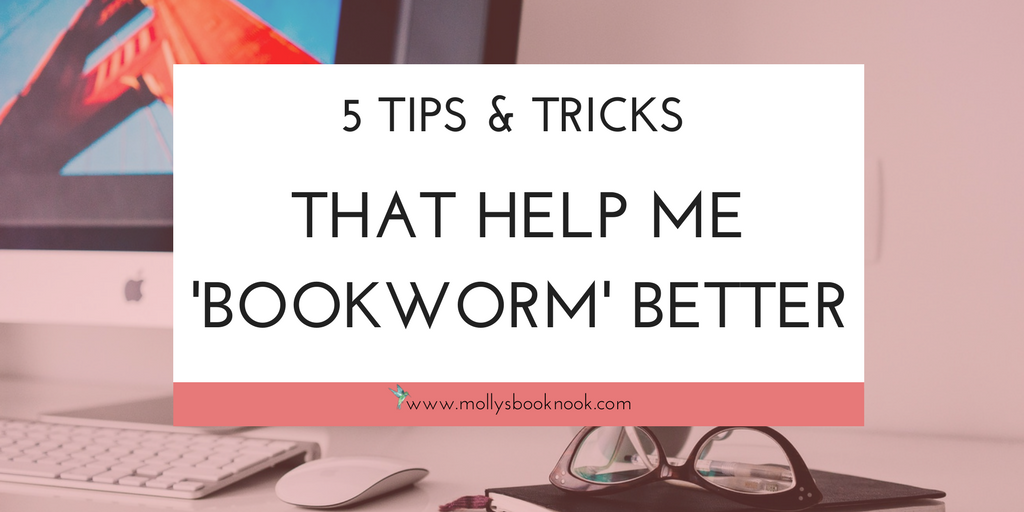 Sometimes programs and app updates are created and they just make my life easier. Especially when it comes to juggling life with blogging/reading. Sometimes it's a smaller feature of something we already use regularly that really helps me gain control. It's the little things! So, here are 5 tips and tricks that I use to keep those small details of blogging or reading simple.

I came across this because of a comment on someone else's blog post – I cannot remember that post or who the commenter was, so if it was you, thank you x100!
Goodreads Right-Click is a Google Chrome extension that allows you to highlight the title of a book on a webpage, right-click, select search and it pulls up the book on Goodreads. It. Is. A. Miracle. Why? Because sometimes there aren't links to titles in TTT posts and other various posts around the web and this saves me time from typing it in myself!Here's how it works: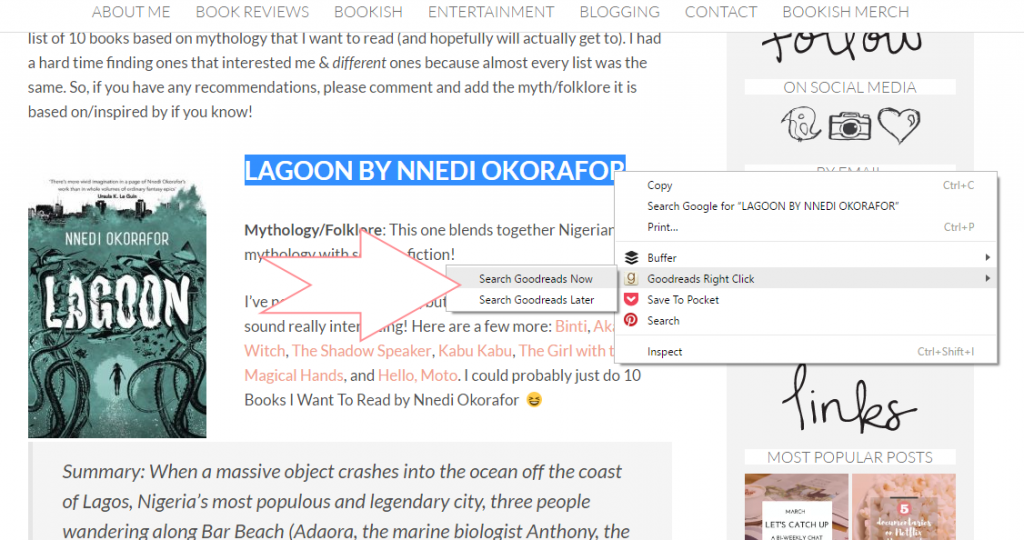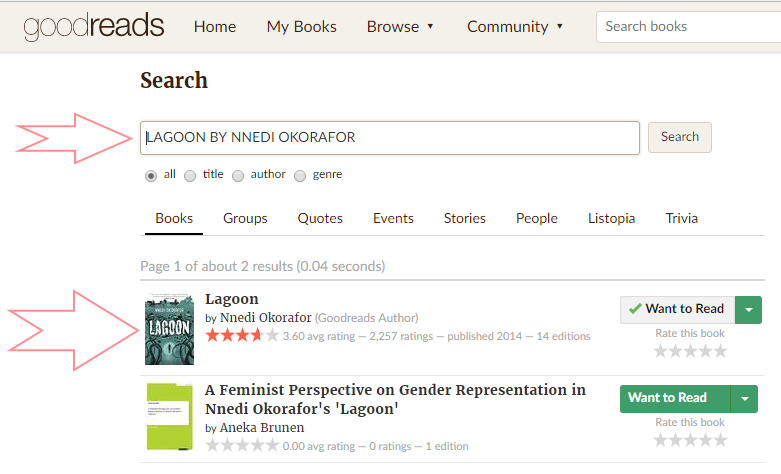 BEAUTIFUL.

I don't read a lot of classics. It's a tad shameful how many classics I just haven't read. I've always made goals to read more, but it just never happens. That's when Serial Reader comes into play.
Serial Reader is a phone app that is for those of us who want to read more classics but maybe are intimidated by them (at least, that's how the app works for me). How Serial Reader works is you browse the books they have, select one (or more), and it will send you a portion of the story every day at the same time. Each section they send is about 20 minutes of reading time. You earn badges for number of words read, finishing books, etc. It's encouraging. 20 minutes, every day, and you'll be flying through those intimidating classics!
*All books are unabridged and they take requests!
There are two versions of this, the paid and free version.
Serial Premium is a one-time in-app purchase for $2.99 (US) that unlocks additional features – including Read Ahead, Syncing, notes, highlights and more – as well as additional fonts.
It's inexpensive, so if you end up using this often it might be worth it. Otherwise, the free one works just fine! Some examples of the books they have:
Treasure Island
The Yellow Wallpaper
War and Peace
Pride and Prejudice
Moby-Dick
Oliver Twist
The Little Princess
Twelve Years a Slave

This one is for all of my Instagram friends. You use hashtags on your photos right? More than 2? Probably closer to 10? Maybe even 15! If so, then you know how annoying it can be to type in the hashtags every single time. That's why I don't do that. Here's my trick – I save my hashtags as a keyword on my phone.
How I did this: Go to Settings → General → Keyboards → Text Replacement → Click the " + " symbol → in Phrase I included all my typical hashtags → in Shortcut I put IGHASH
That's it. Now, every time I post a new photo to Instagram when I include the caption I just type ' ighash ' and it is automatically replaced with all of my typical hashtags (like #bookworm, #bookstagram etc). Then I just add the few that might be relevant to the specific photo (i.e. the book's title).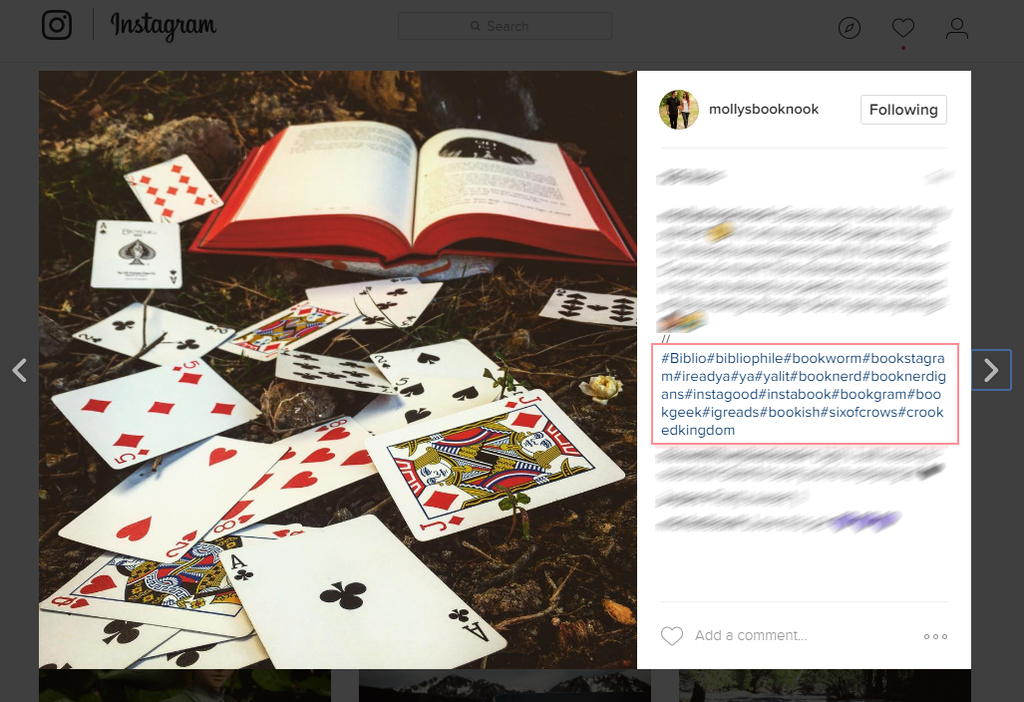 Another one for my IG friends. Use those drafts, people! They come in handy with scheduling ahead of time. Technically, there are third-party sites you can use to schedule Instagram photos (which come in handy for more specific posting times), but if you just want to have a list of photos ready to go, use the drafts option.
What you have to do: Select a photo from your Camera Roll → Edit photo (unless you already have it edited) → Add a caption → Click the back arrow → Click "Save Draft".
Your photo is now in a new gallery above your Camera Roll (in IG) with all the editing and the caption. All you have to do is post it!
One thing to keep in mind is that you can't just add a photo to your drafts without editing it somehow. So, either edit the actual photo or add a caption before going back. Sometimes if I don't know my caption yet, I just up the brightness by 1 just to have an edit on the photo to save for later.

This one is pretty self-explanatory but I'm including it here because a lot of people don't use either (which is okay, but let me give my argument for why it helps me 😉 )
I actually use both a digital calendar and a physical planner. The digital calendar is a plugin for my WordPress dashboard. I use it more for getting an idea of what I want to post in the future. I can easily drag and drop post ideas, quickly write out some notes, and see what I've already posted/when.
My planner is what I use to keep track of things when I'm not on WordPress. I do include non-blog stuff in my planner, but I'll keep it to just how it helps me be a better blogger/bookworm. I actually use the Volt Planner which has a monthly view, a weekly view, and pages for goals (weekly, monthly, and yearly).
Monthly View/Goals: I include all book releases, movie releases, and television premiers that matter to me. I also include my monthly reading goals and design/store goals.
Weekly Goals: This is where I break down my monthly goals into weekly ones that are achievable. I.E. which books I want to read, how many books I want to read, how many posts I want to get written.
Weekly View: I break that all down even more by each day. Which post am I going to write on which day? When am I going to set aside time for reading? etc.
This all comes in handy for just staying on top of everything. Blogging, reading, owning a business, and keeping up with life stuff can be stressful. This definitely helps me.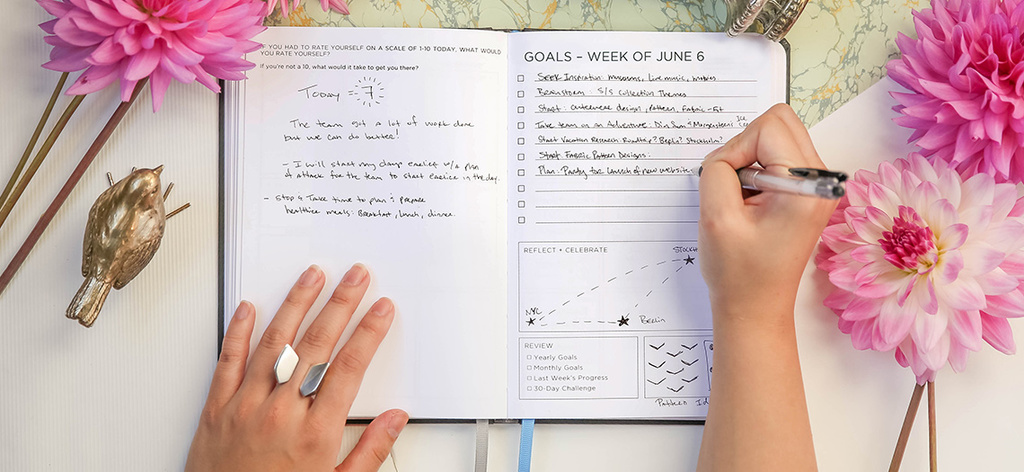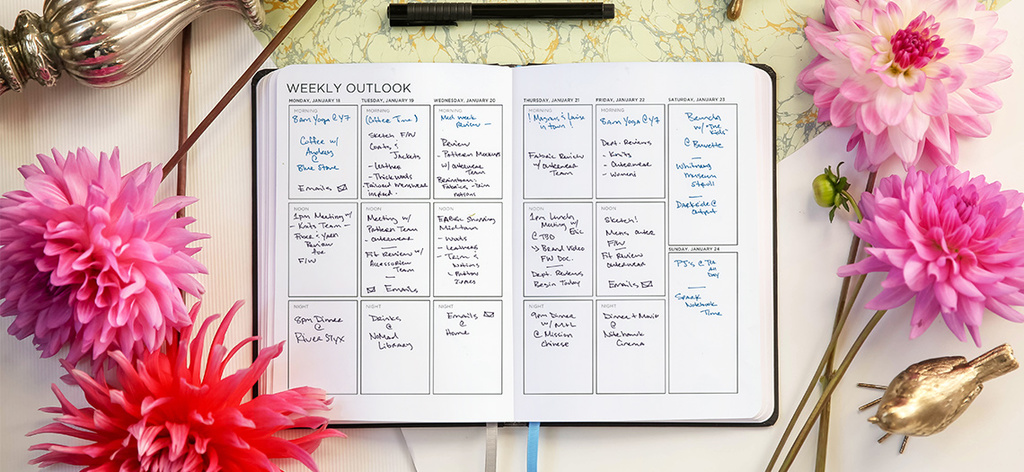 If you're interested in the Volt Planner (which is like a pre-made Bullet Journal without all the extra pages), go here. I absolutely love mine!
---

Do you use any of these tricks? Do you have any more that you'd like to add? 
On a side note: is anyone interested in seeing more details on how I actually use my Volt Planner? I see a lot of people doing BuJo posts. So, just curious!