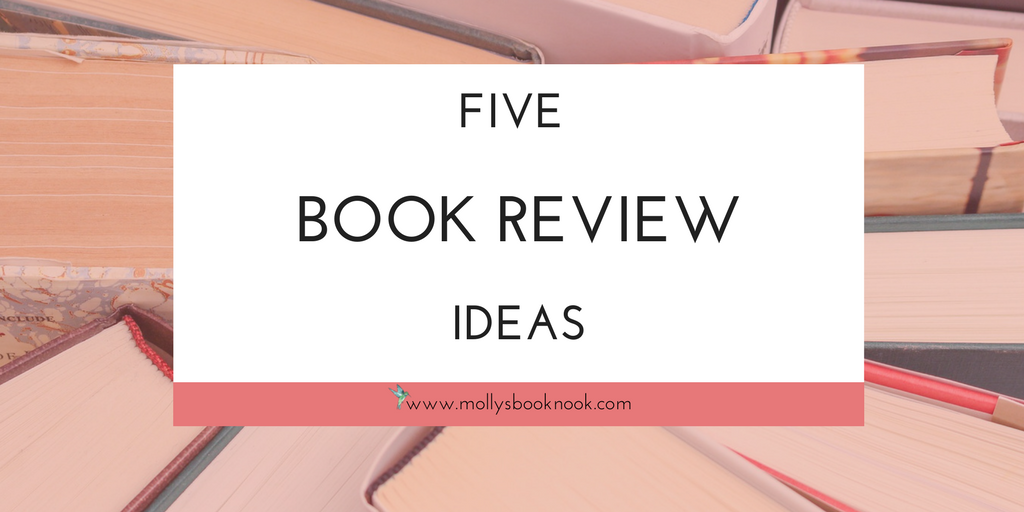 Everyone writes book reviews differently. Even one person will write several variations of types of book reviews. There really isn't a wrong or right way of going about writing one because everyone is different. Maybe you like lists. Maybe you like to articulate your points in a well-organized fashion. Maybe you're all over the place and don't know what the heck you're doing. Maybe you just like to mix it up with styles now and then for some spice in your life.
That's all fine.
Today, I just wanted to chat about the various ways to write a book review in hopes that it will help you if you feel stuck, not to tell you how you should or should not be writing them! (Although, I do include a few tips from personal experience if you feel like implementing those), Here we go!
the reactionary list
These are fun to read especially if I've already read the book being reviewed. Basically, it's just a bullet point list of all of your reactions while reading. It's not written after finishing the book, rather throughout the reading. Think of it as a Goodreads update. When something happens you just have to share it but can't spoil anything so you just post "OMG THAT DID NOT JUST HAPPEN?!" but it's a whole list of them. That is what I call the reactionary list 😉 Liselle from Lunch-Time Librarian did an awesome one for The Selection a while back!
However, if someone hasn't read the book it might not make any sense to them xD
Tips:
Take notes! If you usually don't do this while reading, I suggest you start no matter which review method you choose. It is SO helpful.
Write it down no matter what. Don't over think your reactions while reading. As in don't say to yourself "eh, I'm not going to put that in my review so I don't need to write it down". Always. Write. It. Down.
Rory Gilmore's pros & cons
Have you ever read a book that maybe fell right in the middle of liking and disliking it? Or maybe you just couldn't get your thoughts together enough to form a solid opinion? Or maybe you just really like pros vs cons lists? Then this one's for you!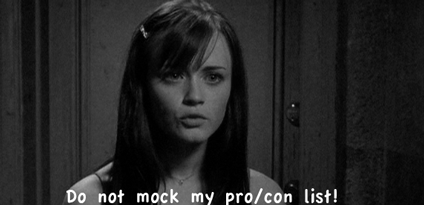 These types of reviews are perfect for all the reasons I said above. I usually use this when I really can't decide what type of review to give and listing things out just makes more sense. Like I did for the newest X-Men movie. (yes, it's not a book, but same idea 😉 )
Tips
Start with the cons first if it was a book you mostly liked. If it's one you didn't like all that much, do it the other way around. This may break some basic rules, but personally, I like to end on the note that I feel more strongly about.
sectionary
This is my main method of reviewing. I like to divide it up into sections based on the category I want to review. Nine times out of ten its Plot, Characters, Writing and Pacing, and then Final Thoughts. You can break it down however you want. In fact, I may be adding in World Building for my reviews of fantasy books. I do it this way more for myself than you guys (sorry, I'm selfish 😛  ). Doing it this way helps me keep my thoughts together because otherwise, my reviews might end up being one huge rant with no structure at all.
Tips
Have CLEAR headers for each section. I have graphics but you can also just title each section then make the font bigger than the rest, centered, or use Heading 2 (or something similar).
I like to bold or italicize main points of each section/paragraph. People like to skim, ya'll. Highlighting the main points allows people to jump around if they want to just skim it quickly.
jiffy giffy
USE ALL THE GIFS. Gif reviews are a lot of fun! You can use gifs in ANY style of review, but sometimes a gif-heavy review is something more silly to do if you're in a bit of a reviewing slump.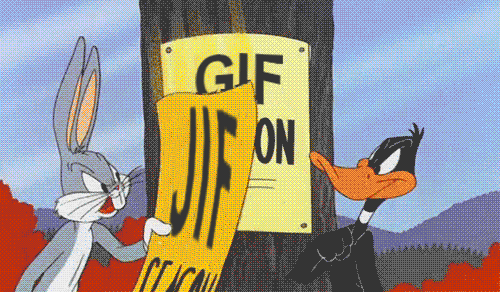 Tips
You can find gifs on Tumblr & other sources, or you can make your own using Giphy.
I wouldn't recommend doing this for every review as I've seen many people say they actually don't like gif heavy reviews  😕
the analyzer
This is for my pros out there. Some people like to go in-depth with their analysis or make it look way more professional than I do. There ain't nothin wrong with that! Use this for those reviews where you have a lot to say and it has to be done in a much more eloquent way.
Tips
Always have paragraphs. Do not write one large paragraph. Please. I beg you.
As I said before, people skim. So it might be wise to include some bold sentences here and there to drive a point home. People will be able to jump to a paragraph and get what the gist of it is because of that bold sentence or phrase.
Extra tips
This more of a tip for your blog as a whole, but make sure your font size is between 12-16pt, especially if you write big paragraphs. I can't tell you how many times I've had to leave a book review before reading because the font was too small.
If you already include the official synopsis somewhere on the page of your book review, try not to summarize it too much in your actual review. It becomes repetitive and sometimes feels like that's all the review is – a summary.
Figure out who you are writing for and what point you want to get across when deciding which type of review to write. Are you writing for your readers? Are you writing for the author or another professional? Are you writing for yourself? None of them are wrong but it will help you with your structure and voice. 🙂
---

What type of book review do you usually write? Is there another type that isn't on this list that you sometimes use or have seen before? Do you have any other tips for reviewing?